Mural by Ash Firebrace and Tom Civil. Painted March/April 2017.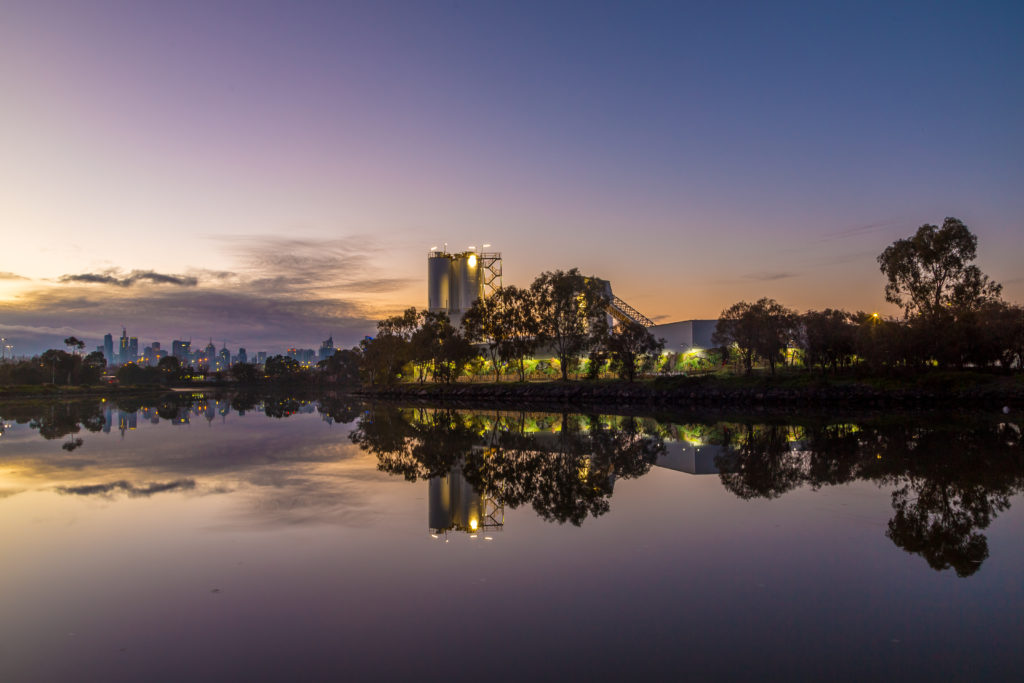 I'd like to begin this post by recognising and paying my respect to the Wurundjeri People who are the traditional owners of the land on which this mural project was created and pay my respects to Elders past and present.
We're all learning along this path of collaboration. And for me this project challenged me on many of levels, mainly concerning working with a large company like Holcim, on the side fence surrounding their new cement plant – the Ferrari of cement plants at that – in the heart land of urban construction. Also the challenges of developing on a past mural along the Yarra River at Dights Falls, continuing my working collaboration with the Wurundjeri Land Council.
I was approached by Matt Shinners from Holicim with the idea to do a similar mural here on the Maribyrnong River along this 150 metre fence surrounding the upgraded plant. I proposed I could only do the project as a collaboration with a Wurundjeri artist or help facilitate the process for a Wurundjeri artist to do the job. After consultation with Aunty Gail Smith, Aunty Doreen Garvey Wandin and Aunty Julieanne Axford and others at the Wurundjeri Land Council it was suggested that Ash Firebrace and myself collaborate on the project.
Ash and I got stuck into it – developing the concept of an underwater river scene with swans and hands reaching in to catch fish. The hands are actually self-portraits of Ash and my hands made from tracing our hand shadows, Ash wanted this to represent a Wurundjeri person teaching a non-Indigenous person how to catch a fish in the old traditional way. We cutout the animals and key features from plywood and painted them down at the studio to later install them on the painted background on the 150 metre corrugated fence along the Maribyrnong! I mainly painted the more realistic animals and Ash painted traditional Wurundjeri patterns on top – we were both so excited with how this collaboration turned out. And the fact that we pulled off such a large and complicated project together!
The words on the mural read:
Womin jeka Wurundjeri balluk yearmen koondi biik
Welcome to the land of the Wurundjeri people
Nang-nak berrnat-to djerring Liwik biik ba yaluk ba ngayi ngabedin nang-nak berrnat-to waar.
Look after our ancestors land and waterways and they will look after you
The mural is along the bike path on the south side of the river opposite the big Heavenly Queen Chinese Temple with the huge Chinese sea-goddess Mazu gold statue, East of the bridge (near the Footscray Community Art Centre) leading into Footscray.